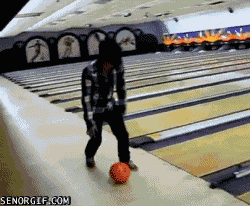 I bowl like that.
Soooo, it's December and December means Christmas, whitch means I might as well start posting things again.
Yeah...I dare you to say that 5 times fast, backwards, while holding your tonge and eating an apple.
Do it, prove you did it and I will give you a cookie.
Any cookie...OF YOUR CHOICE!!!
That's a pretty big deal.
ANYWAYS.
I gots me some Christmas pictures done, some Christmas stories and process, and I fugre I might as well continue where I left off in October and post more 'Slenderlock' and 'AMAII 2' seeing as people liked them and want me to write more.
Til laterz, Yo